Remembering and honoring Dr. Jack Hyles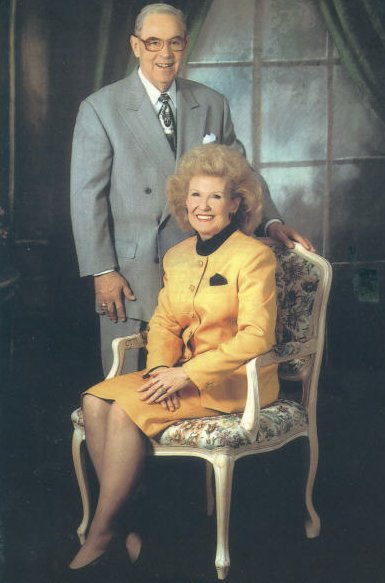 Our "First Family"
Below, without further comment are pictures taken at First Baptist Church of Hammond at 1:00AM on February 10, 2001. No effort was made to enhance them. It was subdued lighting in the auditorium and instrumental gospel music was playing. Flowers were in every nook and cranny. The last pictures are outside at the Walker building where there is a mural of Bro. and Mrs. Hyles. There were many signs and posters, some of which were damaged by the heavy rains during the day and the hard freeze tonight. On the ground under the mural were lots of cans and bottles of Diet Dr. Pepper and Diet Coke! I hope this conveys to you what it is like here.
Click on the thumbnail picture to see a larger version, then click "Back" in your browser to return to this page.
---
---
Below are pictures of the programs from both services and also the memorial pamphlet that was handed out. Click on the thumbnail to view a larger image and the "Back" in your browser to return to this page. The images are large and may take a little while to load up, but I wanted you to see them in original form, so I did not shrink them. View the images from left to right to see them in the proper order.
Some of you have asked for hard copies of the pamphlet. I do not have any to send, however I reproduce it in smaller images so that you may print it, if you choose. Again click on the small thumbnail below for a larger image and "back" in your browser to return to this page. You should print the wide pages in landscape mode, then it will all fit on one page.