Dr. Jack Hyles
September 25, 1926—February 6, 2001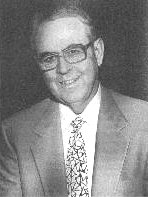 Jack Hyles began preaching at the age of 19 and pastored for 54 years. These pastorates included churches that varied in membership from 44 to over 100,000. All of these pastorates, other than First Baptist Church, were in the state of Texas: first, Marris Chapel Baptist Church o Bogata, Texas; then to Grange Hall Baptist Church in Marshall, Texas; from then to Southside Baptist Church of Henderson, Texas; and then to Miller Road Baptist Church of Garland, Texas. He pastored Miller Road Baptist Church for approximately 7 years and saw this church, with the Lord's help, grow from membership of 44 to over 4,000. It was from Miller Road Baptist Church that he was called to First Baptist Church of Hammond, Indiana.
Dr. Hyles was Pastor of First Baptist Church since August, 1959. This church has a membership of over 100,000 and has averaged 10,000 baptisms per year for the past 5 years. For many years, the church has been acclaimed to have the "World's Largest Sunday School." During Dr. Hyles' ministry, First Baptist Church increased in property value from $70,000 to over $70,000,000.
Besides his position as Pastor, Dr. Hyles was Founder and Chancellor of Hyles. Anderson College and Superintendent of Hammond Baptist Schools, which enrolled approximately 4,000 students last year. The doors of Hyles-Anderson College opened in 1972, and Dr. Hyles led in the training of over 1,000 pastors and missionaries currently serving in the United States and on foreign fields. The First Baptist Church also owns and operates a rescue mission and cemetery, which along with the schools, are located within 20 miles of the church.
Dr. Hyles authored 49 books and pamphlets. Many of his sermons are available on audio and video tape. Dr. Hyles' experience covered numerous evangelistic campaigns, Bible conferences, etc. He preached in virtually every state in the Union and in many foreign countries. He hosted 37 annual Pastors' Schools, which have attracted thousands of preachers from all over the world.